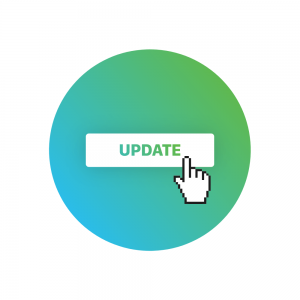 Keeping Up to Date
There's a very good chance that your computer uses Microsoft's Windows 10 operating system.  If not then you're almost certainly using Apple's IOS operating system.  In either case, you're going to receive regular advice to update your device.  I updated my iPhone this morning and last week I updated Windows 10 on my desktop PC.  These updates are essential to keep your technology current and they perform a number of important functions:
They fix identified bugs or faults in the software
They make changes to the look and feel of what you see
They provide security updates to known threats
They introduce new services or enhancements
These are all important changes and while some are quite minor, other updates can be quite significant. When you perform an update, make sure you give your computer enough time to work through it.  Choose a time when you don't need to use it, make sure it's plugged in (in the case of smart phones) and check its progress regularly.
It's really important not to turn your computer off part way through the update or to stop it before it's finished.  If you do then expect problems.  If your broadband at home or work isn't fast, then your updates may take a while – just be patient and let the software install itself.
At Need a Nerd we meet people who haven't trusted the updates, thinking them to be spam or malware and, while caution is a good thing, if you have good anti-virus protection, then you should be fine and proceed with confidence.  If you ignore them, then over time your computer or smart phone will start playing up because other software and applications you use won't work with your out-of-date operating system.
And finally, once the update has been installed, don't forget to restart your computer to lock in the changes.
If you need any help, please call me on 04 212 6413.
Happy Computing